When Serena McIlwain was appointed to lead the Maryland Department of the Environment earlier this year, she took charge of an agency at a crossroads.
Under Republican Larry Hogan's governorship, which ended after eight years because of term limits, the department made several important strides toward restoring the Chesapeake Bay. But it was hobbled by a shrinking workforce and bruised by legal fights with environmental groups seeking better enforcement of pollution controls.
The new governor, Democrat Wes Moore, reached across the continent to hire McIlwain.
She had served for four years as undersecretary of California's Environmental Protection Agency. That was after a short stint at the U.S. Environmental Protection Agency in Washington, DC, as director of the Office of Continuous Improvement during the Trump administration.
The veteran bureaucrat has worked in various roles across much of the federal government going back to 2003.
During an interview with the Bay Journal, McIlwain was quick to dispel any notion that she is merely a hired gun. She was born and raised in the Chesapeake Bay region, and she still considers it her home.
Below are excerpts from the interview, which took place in mid-June at MDE headquarters in Baltimore. It has been edited for length and clarity.
Question: You've moved across the country a couple of times now. Why did you want to come back to Maryland for this position?
Answer: I wanted to come home. And the more important reason is when I met with the new governor, Gov. Wes Moore, we talked about climate change. We talked about some of the issues in Maryland, and when we spoke, I saw the passion he had and the support that he would have for me and MDE, I was ready to pack up right then and there and leave my job and come here.
Q: What's your favorite image when you think of the Chesapeake Bay?
A: My favorite image is really just the water. I love water. Water is my middle name. Not literally. But yeah, it's just the image of the water and seeing the boats and people out there enjoying themselves.
Q: The University of Maryland Center for Environmental Science Bay report card recently gave the Bay ecosystem a C grade. Despite 40 years of effort, the big lift in aquatic health seems to elude us. Why haven't we been able to overcome this?
A: It's called climate change. Things keep changing. Every time we come up with goals that we think are suitable for restoring the Chesapeake Bay, more things are happening. And it's just hard. We're relying on other states that contribute [pollutants] to the Chesapeake Bay. We don't really control that. We rely on the EPA to control those other states. It's a constant battle challenge, but we're making progress nonetheless.
Q: The biggest pollution reductions for the Bay need to come from the agricultural sector. That's not news to anybody. But, so far, efforts such as cost sharing and best management practices haven't been nearly effective enough. What can be done to get at this problem?
A: There's a lot of nonpoint sources of pollution. I will tell you, as new secretary, I'm working very closely with the new [Department of Agriculture] Secretary Kevin Atticks on trying to really look at ways that we can do things differently in the agricultural area. It's agriculture. We need it. But at the same time, you cannot pollute the environment. It's a constant thing that we try to deal with and work with.
Q: The Chesapeake Bay program from the beginning has largely been based on reducing nutrients to reduce the size of the "dead zones" in the deep channel. With the 2025 deadline approaching to put actions in place, is it worth rethinking what those goals should be?
A: I think we're at a good moment where we can start to reimagine how we're going to restore the Bay. There was a recent report out [the Comprehensive Evaluation of System Response report], and it has a lot of recommendations in there as well. In that report, they're talking about ways to start thinking differently. I know there's a lot of hype about, "Oh, we're not going to meet the 2025 TMDL [total maximum daily load]." I will tell you, that might be true. But Maryland — we're on target to meeting it. We're doing our part.
Q: Your agency is working on releasing an implementation strategy for the Climate Solutions Now Act, which calls for 60% reductions in greenhouse gas emissions by 2031. How do you see the state reaching this goal?
A: It hasn't been released yet. But I do have an idea of what it's going to take. And it is going to take a lot of coordination and partnership with state agencies. I will tell you this: It is possible to meet the 60% goal by 2031. We can do it, but it's going to be a real heavy lift. That includes continuing the efforts that we have now with zero-emission vehicles and building more infrastructure [to support EVs].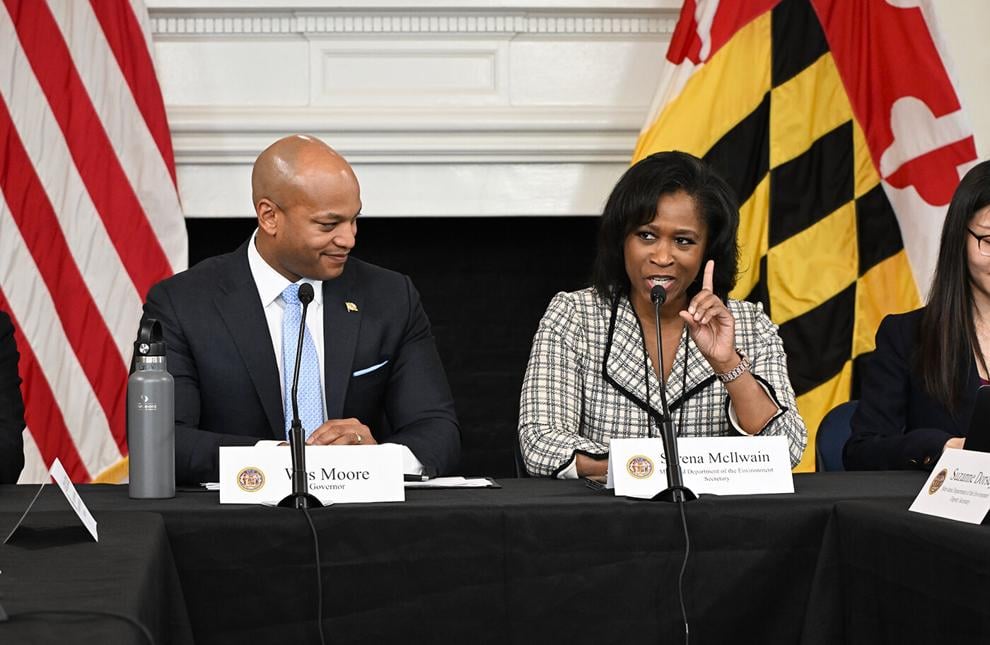 Q: What about the gas stoves?
A: Yes, the gas stoves loved by chefs and cooks at home. But it is part of the solution that we need to be able to convert appliances to electric. It's better for pollution, and it will definitely help us meet our climate goals. We plan to really look into changing appliances and making them cleaner.
Q: When you look at any environmental justice screening tool — University of Maryland's, for example — you see different places light up in the DC suburbs and Baltimore, but also in rural places like Hagerstown and the Eastern Shore. What can this administration do over four or eight years to get wins when it comes to environmental justice?
A: I will be looking at everything that we do from an equity lens. And that's from permits, to regulations, everything.
Q: The Climate, Labor and Environmental Equity Act did not pass this last legislative session. It would add more teeth to the idea of equity and permitting. Is that something you would support going forward?
A: I absolutely need it. I supported it. I want it badly. If it's never passed, are we still going to move forward? I am. That bill was really important to me, and I hope to see it continue on [in next spring's session].
Q: What other justice-related goals do you have in mind?
A: I have started listening sessions throughout Maryland. I started with Curtis Bay. And it was really enlightening for me. We're starting to listen more. And it's no longer rhetoric, as far as I'm concerned. So, I'm listening to their needs. We're coming back here, and I'm keeping it at the forefront of all that we do.
Q: What was so enlightening about the Curtis Bay listening session? [Editor's note: Curtis Bay is a majority Black community in Baltimore that neighbors several industrial sites.]
A: They brought up issues like, we have to continue to get our tires changed on our cars because of all the trucks going through. We [at MDE] don't regulate the streets. But that was a concern to them. And it was a concern to us. They talked about the coal that's in those trains that are right there, and I was able to go and see the dust. They were talking about how they can't keep their windows open. That really resonated with me. I felt helpless because I can't do anything about that coal. And that did not make me feel good. So, what I told them was, "It's not my area, but I will partner with whoever I need to, to bring awareness to this issue." That means talking to federal Department of Transportation, speaking with Maryland Department of Transportation, and I already have it scheduled to meet with them.
Q: This administration's first state budget includes funding for 43 new positions at about $3.7 million to help clear the backlog of stormwater discharge permits that have expired but been allowed to continue standing. Why did this administration want to address that right out of the gate?
A: The public is really concerned about it. We need to make sure that everyone is in compliance. We need to do our jobs. I get reports weekly. I've made it clear that it's a priority.
Q: It very much echoes another situation that involves your department. MDE and the Department of Health share oversight of septic permitting, where another backlog is occurring, particularly for the Eastern Shore. What can you tell folks who are saying, "Why can't I get my darn permit?"
A: We are working with the Health Department. We're going to be looking at making sure that the people who need the permits are getting five-star customer service. People are waiting for responses. That's unacceptable. Period. So we're going to correct it, we're going to clean it up.
Q: Can you provide an update on the Conowingo Dam license negotiations with its owner, Constellation Energy, in the wake of the federal court ruling last year that nullified the 2018 agreement for it operating license? Do you see significant changes to those provisions in that settlement?
A: As part of the court decision, we are required to start the reconsideration process again. We're going to reconsider whatever [Constellation's representatives] bring forward. Once that process is over, then we will make a decision on what we need to do with the water quality certification.
We're going to be and we have been very transparent. We're letting the public be a part of it. We're just trying to do the right thing by Marylanders.
Q: Under the 2018 agreement, Exelon (the dam's owner at the time) was on the line to pay $200 million to address water quality concerns, and $700 million if you count in-kind projects. Do you see that amount changing much going forward?
A: I'm not sure about how much more money we will get, if any, because now we have to start all over. There are a lot of court cases and different things that have happened over the years. Because this case was drawn out too long, we're not in a position as we could have been to be more forceful with the enforcement, or the amount. We've got court cases [released since 2018] saying we can't do this and we can't do that, in terms of asking for more money when it comes to fines.
[As for the original settlement payout], I think people on the outside thought, "That's nothing. You could have gotten billions."' Honestly, there was a chance that we could have gotten zero. When I did start, I asked what happened with Conowingo Dam, what happened with the settlement. When I looked at everything, I understood why we decided to settle for $200 million. That was good for what we knew and what was in front of us.
Q: A timely question: Our region was literally choking on smoke caused by Canadian wildfires widely attributed to climate change. You lived in and worked in California, where wildfire fires have sadly become part of life. What was your takeaway from this latest experience?
A: My mind went to California. I thought, "Oh, communication." When I was in California, we were very good at communicating to the public where we are and what does this mean. We didn't really have that system in place here.
As we were getting through it [here], I saw misinformation. [Misinformation was spreading that said] it was getting worse. We were looking at the data, and it was going down. So, I made a decision that, "Hey, we need to get out there and get the message out correctly."
By Jeremy Cox